R. I. P.
Passed 4 - 16 -2012
You will be forever missed
The Videos that made him THE WORLD FAMOUS YOUNG NOSHA!

My remixed Video ft. Enzyme Dynamite
As Seen on truTV, Tosh.0, & RUDE Tube!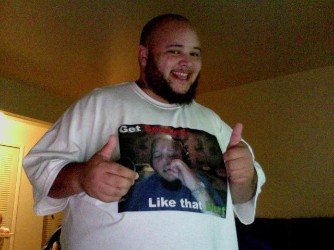 WHO IS CHARLES "YOUNG NOSHA" SUMMERS?
Young Nosha has been recording since 1997 and practiced his material at his aunt chars karaoke shows. Noshas love for rap, hip hop and r&b was hard to express to the public, especially in Kenosha seeing as that genre of music is frowned upon in his hometown. He even went so far as to saving his own money to rent out Da Calender ( a hall located next to Johnny Midnights off of 22nd ave in Kenosha, WIi ) and promoting for an all ages showcase that 45 minutes into was shut down by Kenoshas very own gang unit. To hear more about that story E mail us getmoneyboyz@groups.facebook.com An opportunity presented itself for a rap n hip hop night taking place in lyons, Wi. He immidiately kicked it off wit Mr. Frizzo and D.j. Sham rock. Nosha was given an invitation to partake in The behind the music tour. This Tour was ran by Mr. Frizo and D.J. Sham and took place in the midwest area all the way from Chicago @ club mirage to Milwaukee @ Liquid Hideout, Live on North and many more. Young Nosha Met Baby J and the Gmb boyz During this tour. They now consider themselves family and feel they can conquer anything as long as they focus on there unity ( United We Stand Divided We Fall) wich is why they chant "Who ya wit?) and answer that chant with " G M B E N T" thats Young Nosha ENT and Get Money Boyz (GMB) branched together. They are currently partaking in the goood tour also ran by frizo and dj sham and continue to record and promote there music Throughout the midwest demanding for there big break in music history........
Hope you enjoy the Shirts "WHO YA WIT?"